How to Convert MP4 to MTV for MP3/MP4 Players
What is MP4?
MPEG-4 or MP4 is a multimedia container format which means it allows you to combine different media stream into one single file. This includes audio, video, 3D objects, sprites, text and other media types. The file extension for MPEG-4 is .mp4 and often referred to as MP4. Your PSP, iPod Video and most mobile phone support MP4 playback.
What is MTV?
Video format used by various Chinese MP4 portable video players; contains a 512-byte file header and a series of images that are displayed during MP3 playback; similar to a .AMV file, but uses slightly different formatting.
Why Convert MP4 to MTV?
Though MP4 is one of the most common formats, MP4 files cannot be accepted by some Chinese MP3/MP4 players that only support MTV format. So if you want to enjoy those wonderful MP4 videos with your special MP3/MP4 player, you need to convert MP4 to MTV.
How to Convert MP4 to MTV?
To convert MP4 to MTV, MPEG-4 to MTV , H.264 to MTV, iOrgsoft MP4 to MTV Converter is an ideal tool. It makes you possible to convert and import MP4/MPEG-4/H.264 files to MP4, MP3 (including S1 MP3 players), MTV players, 3G phone, etc. which support AMV/MTV format and enjoy them anywhere anytime you want.

In addition, MP4 to MTV Converter is capable of converting almost all regular formats like AVI(DivX, Xvid), WMV, MOV, FLV, MKV, etc. to AMV, and HD video formats like AVCHD, M2TS, TS, TRP to MTV format.

Apart from the powerful converting function, MP4 to MTV Converter is also designed with powerful editing function, e.g. adjust brightness, resolution, aspect ratio(16:9,4:3) etc. through Trim, Crop, Effect, Settings. What's more, batch conversion and merge function are supported.
Step by step on how to convert MP4 to MTV with MP4 to MTV converter
Step 1. Download MP4 to MTV converter
Free download iOrgsoft MP4 to MTV converter, install and launch it. Friendly interface will pop up.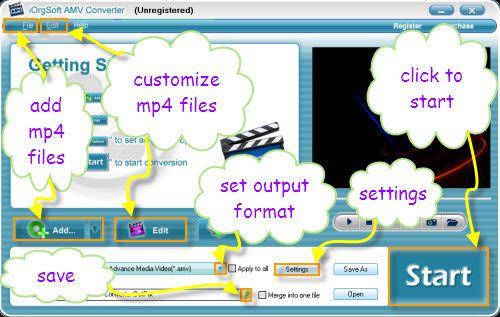 Step 2. Add MP4 files
Click "File" on the top menu or Add…button to add MP4 files, select AMV as output format. Click the folder icon and choose a folder to save the output files.

Step 3. Trim and Edit with MP4 to MTV converter
Cilck Trim to set the start and end time for MP4 files.
Cilck Edit button, set aspect ratio(16:9, 4:3 available) through Crop and adjust Brightness, Contrast, Saturation through Effect(special effect Gray, Emboss, Old film available).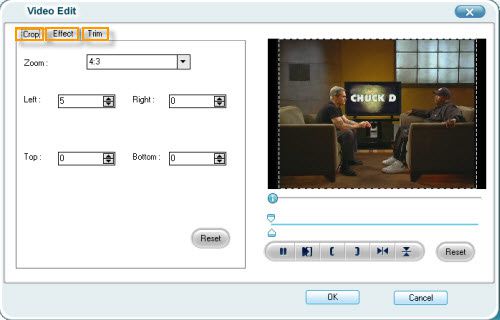 Click Settings to set Resolution, Frame Rate for video and Sample Rate, Channel for audio.

Step 4. Convert
Click Start button to finish the conversion with MP4 to MTV converter.
find best Valentine gift here, Tod to ipad, Ali mtv video converter, MTV Converter, Flip video to iPad converter, Kodak video to iPad converter,YouTube to MP3 converter for Mac, ipad video converter for mac, iPad video converter, tod converter for mac, rm converter for mac, mp3 converter for mac, Creative Zen Video Converter, amv converter, MOD Converter, video to flash converter for mac, Kodak Video Converter, DVD Ripper for Mac, PDF Converter,video converter for mac, video converter, flip video converter